What is SleepFix App?
SleepFix App is a smartphone application that uses sleep consolidation treatment to treat insomnia. The goal of sleep consolidation therapy is to improve the balance between actual sleep time and total bedtime.
Who are eligible for the study?
Individuals with sleep disorders between the ages of 18 and 65 who have access to a smartphone are eligible for the study.
Participate in an intriguing online research study that uses a new smartphone app to help them. By improving your sleep and daytime functioning.
What will be in the SleepFix App Study?
You will be needing to answer a series of questionnaires that will take less than 2 minutes to determine if you are qualified to participate. Participants will be asked to grant consent and participate in the study if they are eligible. The SleepFix App will be used every day for three weeks as part of the trial. You can keep using the app for another three weeks if you want. At the start of the study, weekly (for three weeks), after six weeks, and after 12 weeks, in which participants will be asked to answer a series of questions. It can take up to 5 minutes to complete.
In addition, all participants will be randomly allocated to use SleepFix App with or without a Fitbit to track their sleep. If you are in that group, we will give you a Fitbit at no cost to use. You can use your Fitbit to track your sleep during the study if you already have one.
It is entirely up to your decision whether or not you participate in this study.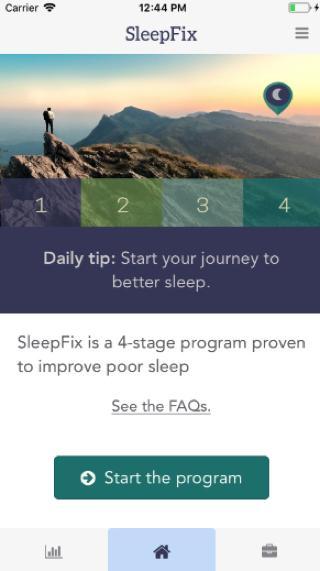 Who is behind SleepFix App?
Associate Professor Gordon has spent the last two years developing and testing SleepFix App which is a mobile software that uses therapy approaches to cure insomnia. It has proven to be effective.
Comments by Researchers on Sleepfix App.
The app provides insomniacs with sleep therapy which helps in gradually educating them to spend more time in bed asleep than awake.
?There have been two systematic reviews that compare face-to-face and digital therapy, and the clinical outcomes are nearly identical?. He added that ?Patient drop-off is also pretty similar across the two.?
Now, with the help of an SHP grant, he's working with primary care doctors, pharmacists, and nurses to integrate the app into their daily practices.
?We're looking into whether primary care providers can deliver the app and whether it's something. They'd consider adding to their arsenal of therapy options in the future,? he said.
We believe that if a patient is told to use the app by a trusted health expert. They are more likely to try it and stick with it. If other health professionals tell them or if they take a self-help approach.?
Check Out Our List Of Top Fitness Apps